Powerful digestive health and immune support for cervids of all ages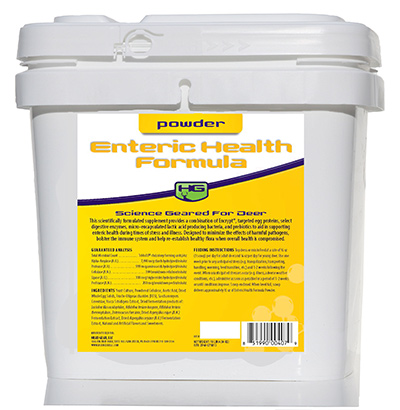 Maintaining normal digestive health and providing support for a healthy, functioning immune system can be the key to raising healthy deer of all ages.  Especially during fawning, weather changes, times of stress and when top performance is desired.
Enteric Health Formula is designed to promote intestinal well-being, help maintain proper digestion and GI health, as well as help support a functioning immune system in cervids.
Enteric Health Formula is a specifically formulated combination of new and proven technologies, including soluble and insoluble fibers, organic acids, dried egg proteins, specially formulated digestive enzymes, prebiotics, and live (viable) naturally-occurring micro-organisms.  This all-natural formula can be fed to cervids of any age as a top dress or mixed in feed.
Enteric Health Formula Contains The Following Key Ingredients:
 Soluble and Insoluble Fibers With Organic Acids

Helps maintain a normal, healthy digestive system
Supports the normal protective layers of the GI tract

Specially Selected Enzyme Blend

Supports digestion and absorption

Live (Viable) Naturally Occurring Microorganisms

Provides a source of beneficial intestinal bacteria to help maintain proper gut flora
Micro-encapsulated to provide stability and protect from stomach acid and bile

Prebiotics

Provides a food source to nourish natural gut bacteria that utilize FOS (fructooligosaccharides)

Yucca Schidigera

Flavoring agent and may aid in reducing odors due to ammonia production post-excretion

Dried Egg Proteins
Top dress in feed at a rate of ½ oz. (one scoop) per day for adult deer and ¼ oz. per day for young deer.  Use one week prior to any anticipated stress (e.g. weaning, tranquilization, transporting, handling, worming, feed transition, blood testing, breeding, etc.) and 1-2 weeks following the event.
When unanticipated stressors occur (e.g. illness, injury, adverse weather conditions, etc.), administer as soon as possible for a period of 1-2 weeks or until conditions improve.
Incorporate Enteric Health Formula into your cervid health and productivity protocols today!
For more information, click on the links below: